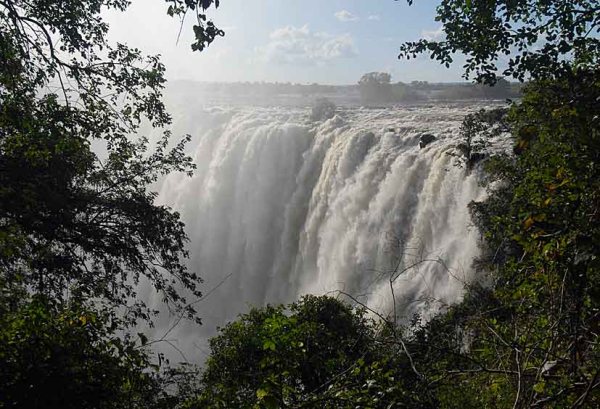 13th April 2010 - 18th April 2010 - Lusaka to Livingstone
We over-nighted at a lovely spot called Moorings just north of Monze on the Lusaka Road and then arrived in Livingstone the next morning.
One of the main jobs for Livingstone was to visit Foleys Africa and have our Land Rover serviced and generally overhauled. Nick from Foleys was great, cramming what should have been a few days work into a day and a half. After spending 4 1/2 hours trying to remove various bolts he said he could tell the car had spent most of it's life in Aberdeen. I think he was smiling, it was difficult to see through all the grime on his face. Anyway - we are now road ready for Botswana.
Of course the second biggest attraction in Livingstone after Foleys is the Falls. We spent a lovely day there. I'd recommend getting there early to avoid the crowds - we had the place to ourselves for about an hour. As it is the end of the rainy season the volume of the Falls is pretty much at it's peak with 500 million litres a second plummeting over the mile or so length. The volume is awe inspiring. As is the spray. As we walked we were thoroughly drenched, soaked to the skin beneath our trusty ponchos and at times wading through small rivers running along the paths. There were rainbows everywhere, some of the most intense I've ever seen.
Early Sunday morning we took to the skies for a microlight flight over the Falls. What an amazing experience. Imagine having a flying armchair and you're almost there. You got a sense of the scale of the Falls that's difficult from the ground as we flew through the spray and the rainbows hundreds of metres above the water. We even saw elephant and giraffe in the bush on the way.
6th April 2010 – 12th April 2010 – Chipata to Lusaka
We are basically working our way south – but not aiming to cover too much distance each day. We overnighted at Mamarula's in Chipata and then at Bridge Camp at Luangwa – both a bit grim after Flatdogs (and unfathomably more expensive). Our next stop was at Pioneer Camp about 30 minutes outside Lusaka. This is a very pleasant place with a big grassy campsite which we have to ourselves and with the massive bonus of free unlimited wi-fi – at least when the electricity is on...
One our first evening we got chatting to Paul the camp manager and it turns out he used to work for Peace Parks up at Nyika. We got used to the "small world" phenomenon in Malawi ... but didn't realise it extended quite so far! Paul very kindly upgraded us to one of their luxury chalets.
On Friday evening we were joined at the camp by Nkwasi football team (a Premier League team here in Zambia) and invited to their match the next day. Paul took us along with him and we had great seats in the grandstand. The players were very skillful and the game was energetic but ended 0 v 0. Watching the supporters was even better entertainment; singing, dancing, drumming and even a conga of chanting children!
26th March 2010 – 5th April 2010 – South Luangwa
After a few days in Lilongwe and Mzuzu we headed over the border for South Luangwa for the fourth time in the last 12 months – except this time we weren't planning to return to Malawi after a few days break but head south down to Lusaka and beyond.
We spent 10 days at Flatdogs Camp – and had a great time as usual. We had a few showers and the humidity was high but it wasn't really wet. Though Adey the camp manager told us the whole place had been underwater just a few weeks before. It was interesting to see the park in full greenery. Undoubtedly it was more difficult to spot the game but the scenery was incredibly lush. We spotted (pun intended) a leopard one morning and had a good hour with a pride of fifteen rather muddy and bedraggled lions to ourselves before the afternoon game drives caught up with us. As we drove away we passed seven vehicles heading for the site. One of the benefits of self drive!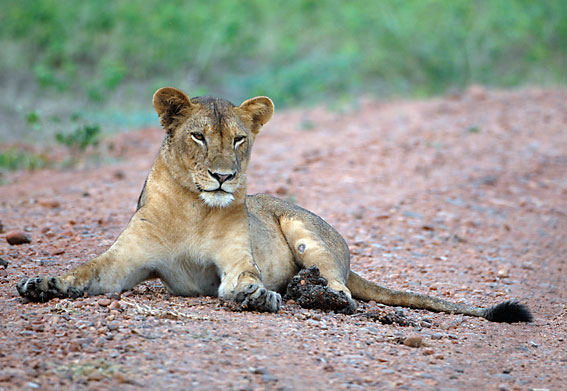 We also saw a huge amount of birdlife – particularly storks, cranes and other water birds. The big old ugly Marabou Stork is a particular favourite of mine and we saw a couple of those. Jerry was fascinated by the ongoing progress of a tree of weaver birds nests which we stopped at and checked out most days.
We also used this time to practice our camp skills a little. Which were sadly rather rusty after a year of living in a house ... with a housekeeper. It took a while but by the end of our trip we were use to where things were. It is amazing how busy life seems in camp, cooking, washing and so on. I guess we'd better get used to it.