Vehicle Preparation
There's a saying that,
"for every expert, there is an equal and opposite expert".
This certainly seems to be the case when it comes to overland vehicle selection and preparation. Having resolved the dilemma of vehicle choice (Land Rover vs Toyota etc) the wannabe overlander then has to navigate the profusion of magazines, websites and dealers offering an Aladdin's cave of parts, accessories and services all apparently essential for your trip. There are also numerous 4x4 and overlander internet forums where heated debates rage between people with sincere and strongly held views regarding the best tyres, shock absorbers, springs etc.
They can't all be right.
While choosing our vehicle we had made contact with a number of specialist overland preparation companies and discussed our plans with them. We asked four of them to provide a summary of the preparations and modifications they would recommend for our Defender 110 and an estimate of the cost. The recommendations and costs varied widely, reflecting the alternative philosophies of the different companies.
In the end we chose Foleys Specialist Vehicles from Roydon in Essex who are a family firm with many years experience of building bespoke Land Rovers and who also have a business in Zambia and contacts all over Africa. Paul and Stuart Foley are nice guys and we liked their philosophy of keeping things as simple and standard as possible. They do offer an "off the peg" expedition vehicle based on a low mileage 1990s Defender 110 300 Tdi Station Wagon which is designed to be driven from the UK to Cape Town (or just about anywhere else). Perhaps not surprisingly, the vehicle that we have ended up with bears a remarkable similarity to Foleys' "Cape Town Special".
With the benefit of hindsight we could probably have saved some money by getting an "off the peg" vehicle but at least we have the satisfaction of having worked out what we wanted for ourselves.
In addition to a thorough overhaul and the replacement of any worn parts and the precautionary replacement of many others, the main work (apart from the inevitable chequer-plating and underbody protection) we had carried out was as follows:-
Roll cage (expensive but a potential life saver);

5 x heavy duty "Wolf" steel wheels plus one bonnet mounted standard wheel, all fitted with BFGoodrich AT tyres;

Heavy duty springs (130 "helper" springs fitted to rear) and twin rear shock absorbers;

Mantec spare wheel carrier for rear door;

Additional 45 litre fuel tank in rear driver's side wheel arch;

45 litre water tank in rear passenger's side wheel arch;

Replacing rear windows with a panel and fitting a heavy duty "dog cage" and internal window grilles to create a secure rear luggage area;

Heavy duty rear shelf to split load area;

Mobile Storage Solutions rear sliding drawer and cubby box for secure storage;

Removal of all but one of the rear passenger seats and replacing two of the middle row of seats with mountings for an Engel fridge and Zarges aluminium storage box;

Heavy duty Brownchurch steel roof rack;

Heavy duty military spec bumper with towing point and Brownchurch bull bar;

Twin batteries and split charging/management system;

Power inverter, additional electrical connectors and security devices.
This work was carried out over several months with various test drives in between.
February 2011 Update
After nearly two and a half years and over 50,000 miles on the road and working in southern and central Africa much of it in the bush, we now have a better idea of what we need and what works.
· BFGoodrich AT Tyres – Expensive but worth every penny. We have worn out (and I mean worn out!) two sets with only one puncture. That was due to a misplaced tool (by far the sharpest implement in the place) in a workshop in South Africa.
BFGoodrich tyres were not available in Malawi and despite their poor reputation locally the two Continental Contitrac tyres we bought were OK and only one puncture – a nail.
For 2011 we have opted for BFGoodrich Mud Terrain tyres (very popular in Botswana, Namibia and Zambia) which should give us more traction in the rainy season as the expense of a bit of extra road noise and on-tarmac performance.

· Storage - This has generally worked well but for 2011 we have ditched the remaining rear seat, moved the Engel fridge to the middle and put a second Zarges box in place of the seat. The Zarges boxes can double as (not very comfy) seats.

Zarges boxes – Excellent dust proof storage.

· 12/240 Volt Inverter – Essential while we were working at Nyika where mains electricity was an occasional luxury. Not best suited for harsh, vibrations and hot and dusty environments and we are now on our third one. If you will be heavily reliant on 220/240 volt electricity a take a spare.


Surge Protector – The mains electricity supply in Malawi and many other Africa countries is subject to frequent blackouts and surges. A good quality surge protector is highly recommended to protect laptops etc. Multi socket ones will let you power several bits of kit from one socket.

Recovery Equipment
"To winch or not to winch..."
Bumper mounted winches look cool, can be very useful but are heavy, expensive and can give a false sense of security and encourage us to get into situations which we shouldn't. We decided against fitting a winch on the basis that in the places where we are likely to get stuck "jacking and packing" is likely to be the best way forward (or back) and there is no guarantee of finding something to winch from.
I hope we have made the right choice but if the last entry on this website shows that we are heading off somewhere remote and then is not updated for several weeks, it is possible that we are stuck somewhere, regretting this!
48" Hi-Lift Jack -

Heavy and potentially dangerous if not used carefully but pretty much standard issue for off-roading.

We have also taken a Hi-Lift Wheel-Mate kit which enables one wheel to be lifted without the need to lift the whole vehicle and a Winch Kit which enables the jack to be used as a winch to pull the vehicle forwards or backwards 36" at a time.

Waffle Boards -

These are heavy and abrasive but come highly recommended for getting out of mud and soft sand. Not used in anger (other than as a makeshift stretcher on the Woodsmoke expedition training course) – we shall how we get on if we need them.

Military Spec Front Bumper ith Towing Point and Rear Dixon-Bate Tow Ball/Pin

Plus various JATE rings, towing straps, shackles, chains etc.
February 2011 Update
We have not gone looking for trouble off-road but have spent plenty of time in the bush with opportunities for getting stuck. Our Land Rover has got stuck twice at Nyika during the 2009 rainy season, both times from holes that Toyota Land Cruisers had recently dug and been recovered from. On both occasions, enough manpower was on hand to push us out.
· Our waffle boards were pinched in Malawi (they were not chained to the roof rack), so we have no way of knowing whether they would have helped get us out.

We replaced the waffle boards with some Maxtrax boards in South Africa. They were expensive but lighter than the waffle boards (and the pine planks we used as a temporary replacement), but so far apart from an attempt to extract an Isuzu bakkie from the sand in South Africa (we ended up towing them out), they have been strapped (and locked) to the side of the roof rack.

We have used the tow strap on various occasions to recover other vehicles but the chain is too heavy to justify its keep and (along with other surplus kit) will be donated to Nyika-Vwaza Trust when we travel back through Malawi.


Tools and Spares
Given the length of time we plan to be traveling and the grueling nature of the African terrain, we have taken a comprehensive set of tools, spare parts and fluids. Even if we can't fix something ourselves if we have the right part, it improves the chances of getting thing fixed properly by local garages.
We can't take everything we might need and Murphy's law inevitably means that we will need something we have not got!
Our spares tools list is too long and boring to be included here but if anyone is interested, please email us and we will happy to let you have a copy.
After weeks of testing and final modifications, in early September, the Land Rover was delivered to Foleys to be sent to Tilbury docks for shipping to Walvis Bay in Namibia.
February 2011 Update
Inevitably, we found that we have brought too much stuff and inevitably we found that despite this we needed things we had not got.
For some time while we were working at Nyika, our tools were the only ones available in the Nyika-Vwaza Trust workshop – we kept a very close eye on them! We got it about right but some heavier items which we are unlikely to use will be donated to the Trust on our return through Malawi.
We took far too many spare parts for a one year trip but our extended stay in Malawi (where good quality parts are either unavailable or 4-6 times the price of parts in the UK), this proved useful. We have had to buy a few expensive parts locally.
Starter Motor - We are now on our third starter motor. The first two were cheap aftermarket ones which expired after about a year. Having spent a couple of weeks in remote parts of South Africa relying on gravity to start the Land Rover, we then paid a lot of money for a Bosch starter motor and had the faulty Bendix gear on the cheap one repaired as a spare.
Shock Absorbers/Bushes - Pretty consumable items. The standard rubber bushes were lasting about 3 months before disintegrating in Malawi. We replaced these with polybushes last year with good results.
Polybushes - Having had to replace the standard rubber Land Rover radius arm bushes without access to a press I was keen to try replacing them with polybushes. Polybushes seem to divide opinion but our experience so far has been very positive.

·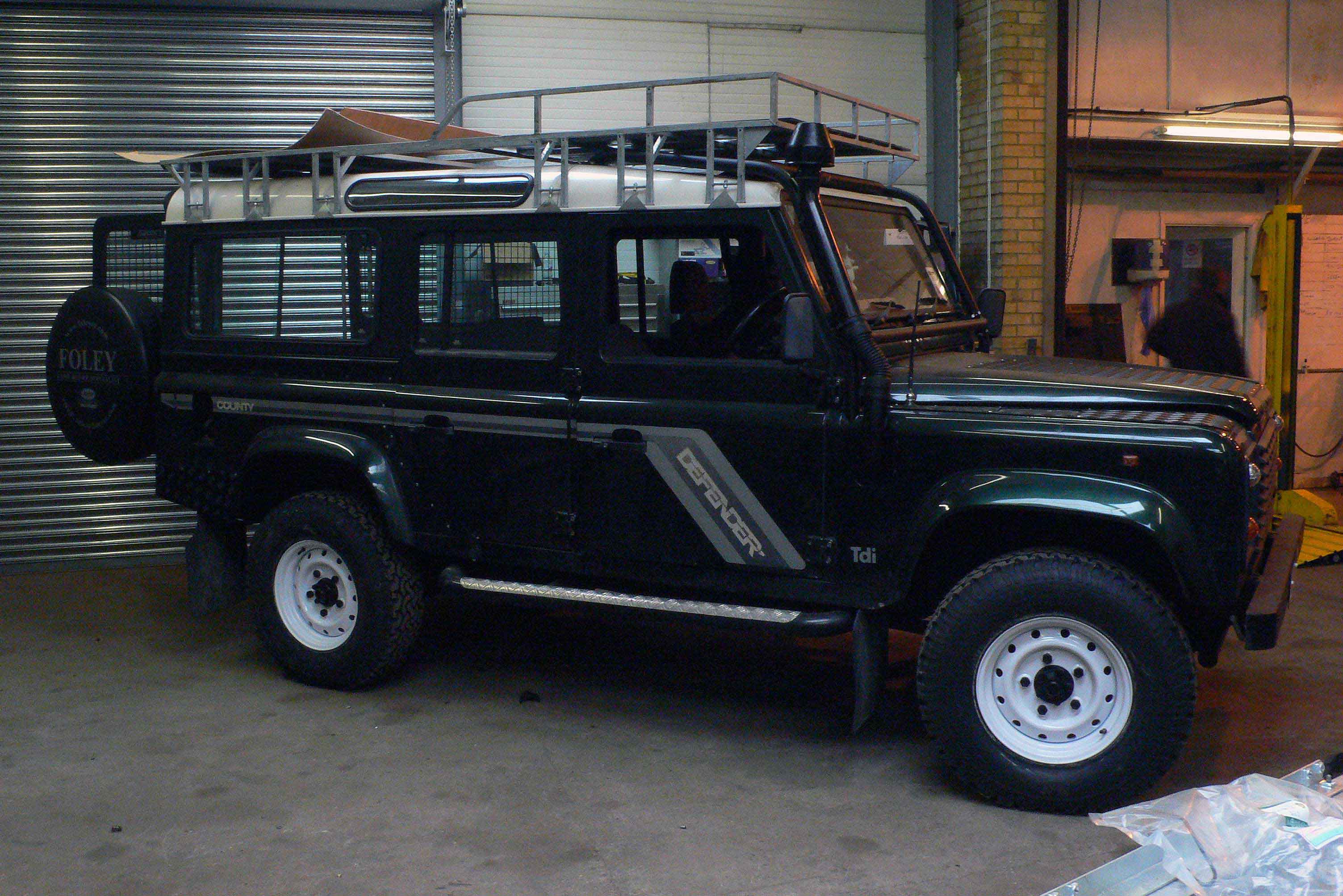 Last look at our Land Rover in Foleys' yard until we see it again (hopefully) in Walvis Bay, Namibia.