8th - 10th December 2008 - Itala Game Reserve/Barberton
Itala is a small reserve by South African standards but has stunningly scenery. We had a beautiful campsite alongside the river to ourselves. We failed to find the resident elephants but had a great encounter with four white rhino. Completely unperturbed by the car and preoccupied with grazing they moved to within feet of us.
We overnighted in Barberton before stocking up in Nelspruit the next day for the crossing to Mozambique. In particular fuel is expensive in Mozambique at c. £1 per litre so we filled our tank (120L) just before the border.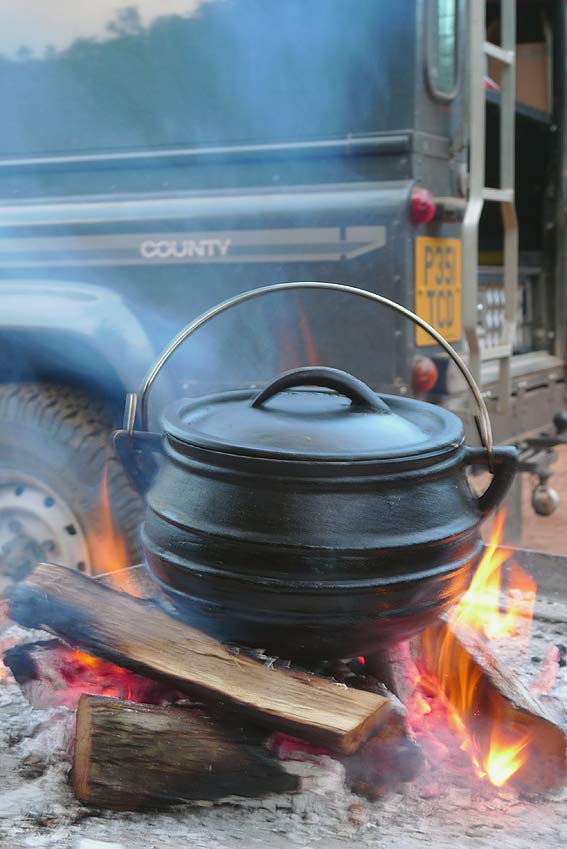 6th - 7th December 2008 - Dundee

Dundee was our jumping off point for a tour of the Zulu battlefields. We spent a really interesting day with Evon Jones, a local guide, who showed us around Isandwlana and Rouke's Drift. Evon is extremely knowledgeable on his subject and really brought the battles to life.
Our first visit was to Isandlwana, now an eerily beautiful spot with white cairns marking the spots where the British soldiers fell. Evon explained how the British had been undone by their arrogance, totally undestimating the Zulu's numbers (25,000) and their military skills (the infamous 'horns of the buffalo' encircling formation).
In the afternoon we visited Rourke's Drift where the British managed to salvage some honour after their devastating defeat at Isandwlana with some 130 odd men (some of whom were patients in the hospital under attack) holding off many thousands of Zulu's until dawn.
My favourite tale of the day was how a small scouting party crested a hill to find the entire Zulu army sitting in silence. They were waiting for a more auspicious alignment of the heavenly bodies before they attacked.
The next day we visited the Afrikaans monument at Blood River. This is quite some monument - 60 life size bronze casts of waggons in the laager formation that allowed them to stave off the Zulu attacks.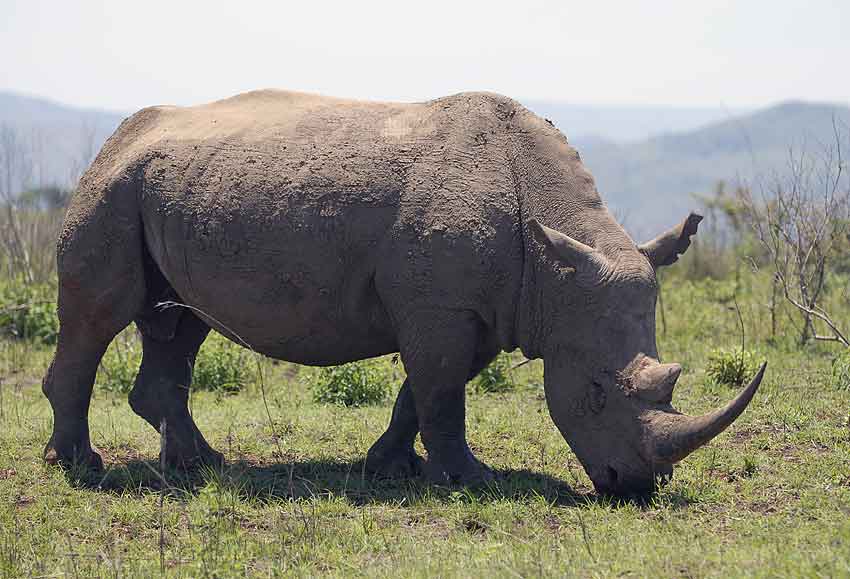 2nd - 5th December2008 - Durban
We are staying in Morningside, a leafy suburb of Durban, in a beautiful old house called the Elephant House (because at one time it was damaged by some of it's name sakes - it's now a national monument).

After a good few days off the beaten track this has been a chance to catch up with the website, sort out the car and pick up any shopping we need before we head off towards Mozambique.

26th November - 1st December 2008 - Wild Coast
We spent three days in Dwesa Nature Reserve the highlight of which was a tour with a local guide. We went in our car through the forest and along the coast finshing with a drive round his village. We saw all sorts, including an exquisite kingfisher, a boomslang snake raiding a nest and a whale skeleton on the shore.
Afetr Dwesa we deceided to visit Bulungula which is a joint venture between the white south african owner and the local Xhosa community. (Check out www.bulungula.com). The journey there was a monumental effort with the GPS telling us we were just a few kms away for literally hours as we lurched up and down tracks that each became impassable. When we eventually got there there was a very hairy 3.5km "track" to the rondavels which was especially challenging in the dwindling light and pouring rain. Having avoiding sliding into the sea on a couple of occasions we arrived and had a very welcome beer .. or four.
There are lots of activities laid on by the locals and Jerry and I spent a very interesting morning seeing how the Xhosa women spend their time - which is basically doing all the work. We are now proficient are carrying firewood and water on our heads (OK maybe not proficient...). And Jerry's skin is much softer having had a clay face mask on for a few hours. I can also cook up a mean maize and bean stew - though it did take about three hours.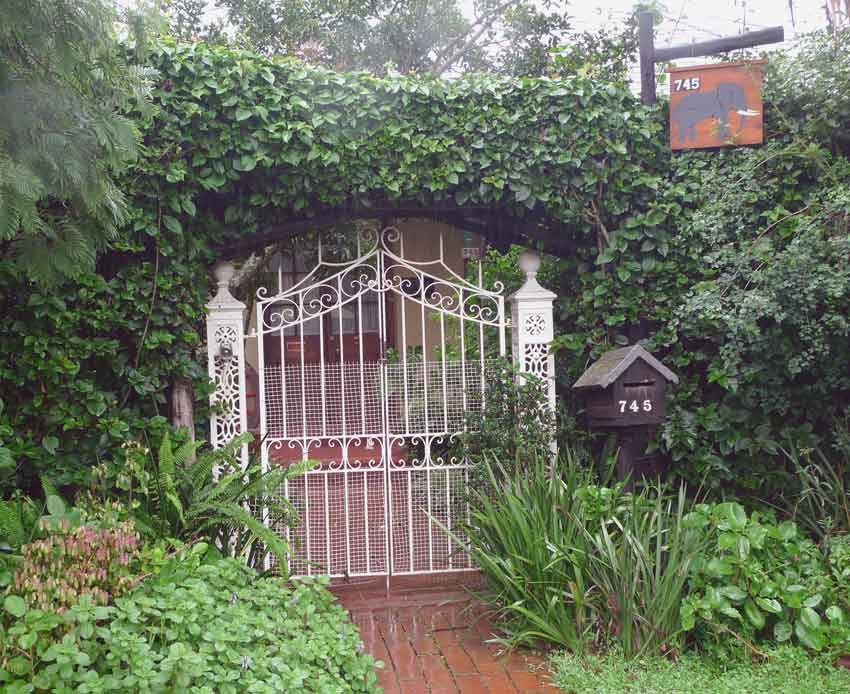 22nd - 25th November 2008 - Addo Elephant Park and Port Alfred
Nobody we met seemed to have a bad word to say about Addo so we had to visit. Compared to Kgalahadi it's tiny and it's hasn't got the same sense of being out in the wilderness but it does have inhabitants which are somewhat easier to spot! We saw lots of elephants -most of which were entirely untroubled by our presence and went about their business, which is basically eating. You are asked to avoid driving over elephant dung (not that easy to do) as it is full of rare dung beetles laying their eggs.
After Addo we had some chores to do in Port Elizabeth eg getting the car serviced and the spare wheel carrier (which had unattached itself from the back door) fixed. We overnighted in a picture postcard perfect campsite in Port Alfred.
19th - 21st November 2008 - Storm's River Mouth
This is part of Tsitsikamma National Park. It is at the bottom of a deep gorge which the sea surges up (hence the name). There is a suspension bridge over the gorge but (once again) it's closed for repair having been damaged by the storms.
We are having a few days R & R here just camping. We're in a beautiful spot in a shady little glade right next to the ocean and after dinner on the beach are going to sleep with the sound of the surf in our ears. We're sharing our site with a couple of bushbuck who don't seem to mind our company.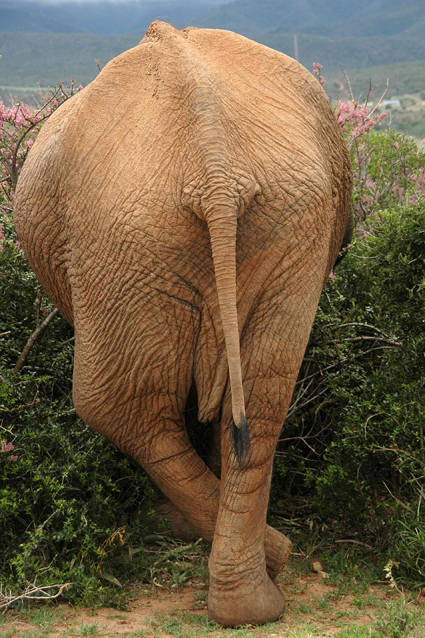 16th – 18th November 2008 - Route 62
We drove from the coast up to Montagu and then along the Route 62 – now being marketed as "the new Garden Route". The road meanders through the Klein Karoo passing by pretty towns and over spectacular passes. We had hoped to stay in Montagu (and gorge ourselves on local produce - fruit and wine) but the town had suffered badly in the recent storms and the campsites were closed for business. We ended up further down the valley at a local hot water spa and took advantage of the fact we were pretty much the only campers reorganising and repacking the car. It was also our first night in the new roof tent - a great success!
Next stop Oudtshoorn or rather a lovely guest house nearby (33 Degrees South). We drove here along a winding dirt road through the Red Stone Hills and it felt like the land that time forgot with moody grey skies, towering red stone, lush green pasture and the occasional single storey white cottage. And ostriches ... lots of them. Apparently Oudtshoorn is the ostrich capital of the world. We had a warm welcome from our hostess Carolyn and sat being plied with beer, wine and whisky in front of a roaring log fire on the stoep all evening before retiring.
The next day we drove over the Swartberg Pass which links the Klein Karoo with the Karoo proper – breathtaking scenery.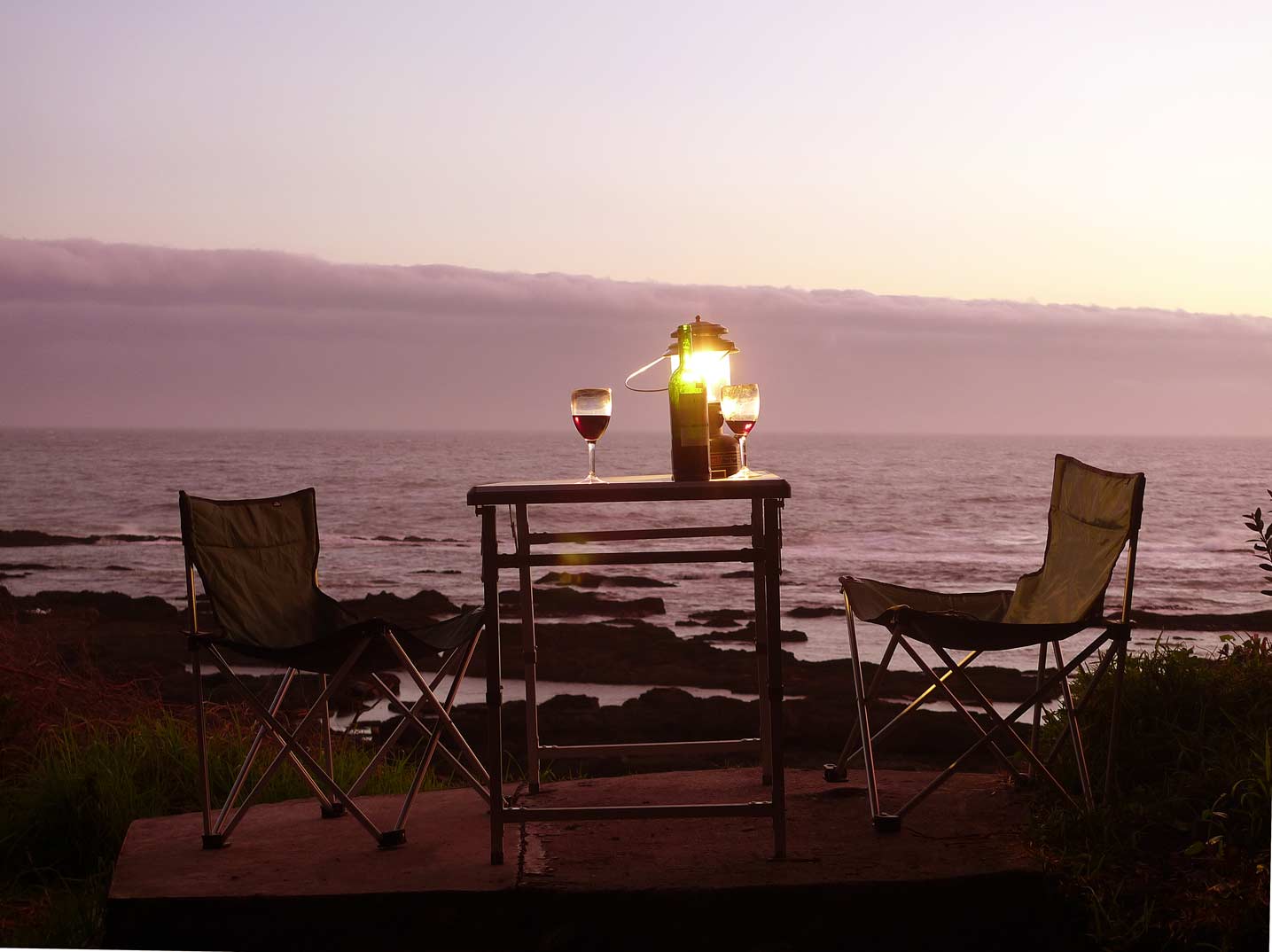 15th – 16th November 2008 – Gansbaai/Cape L'Agulhas
Today we went cage diving. We'd thought we may be in for a bumpy ride given the rough weather the region has been having but it was a fine sunny day.
There were 9 of us on the boat – a nice small number for this sort of trip (other boats took up to 40 people). Better still no-one wanted to get in the cage! Jerry went in first and had a small shark to himself, I joined him when a big female turned up. The shark handlers bring the shark close to the cage with bait (big fish heads) and a seal-shaped lure. The sharks swim right past within touching distance. There was a heart in mouth moment when the big shark gave the cage a bit of a thrashing in an effort to keep hold of the lure when it was being pulled back onto the boat. We finished up the day more peacefully viewing a whale relaxing on the surface nearby.
That evening we drove an hour or so to Cape L'Agulhas - the most southerly tip of the continent and had a swish meal in a posh hotel to celebrate still having all our limbs. We breakfasted the next morning whilst watching whales having a final frolic before heading off to their summer feeding grounds in the Antarctic.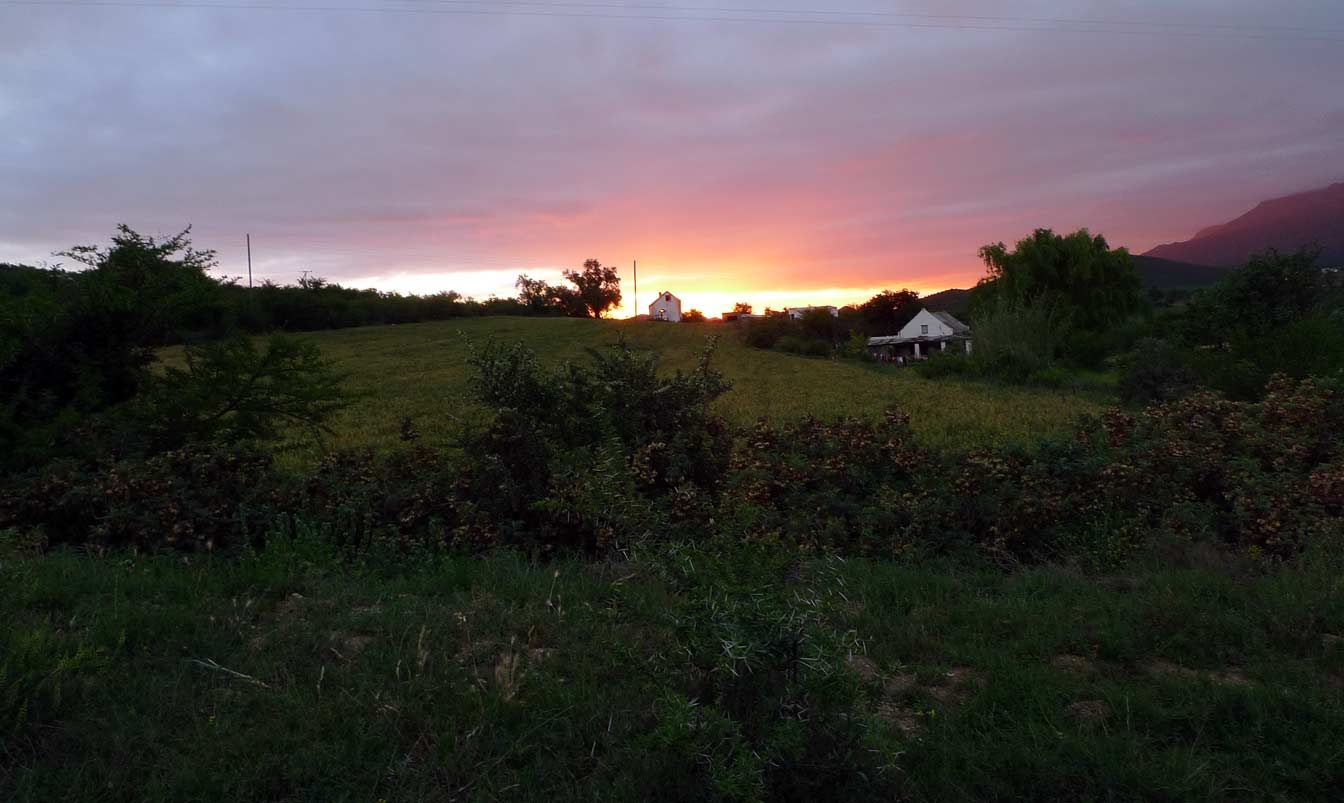 10th - 14th November 2008 – Cape Town
After leaving Paternoster we visited the West Coast NP and Langebaan Lagoon. A lovely spot. On the way out of the reserve we saw a distinctive skyline in the distance – it was Table Mountain. We were some 50km away so I guess it must have been one of Cape Town's rare clear days.
We kept the view in sight all the way there. On arriving in Cape Town we headed to Camps Bay to check out a B & B we'd picked out. It was full – as was Camps Bay. A Sunday with brilliant sunshine and glass-like seas is apparently a rarity here (a local shopkeeper said it was the best day for a year!). The whole of Cape Town was at the beach and we crept along the narrow beach road towards the city centre. Eventually we found an apartment in Greenpoint and went for a stroll to the Waterfront.
When the weather cleared we went on a guided tour of several of the townships that encircle Cape Town. the streets of corrugated iron shacks strectch into the distance (several million people live here and the ever present backdrop of table Mountain looks rather incongruous. We visited a witch doctor (and came away apprentices!), a shebeen (I'll stick to pinot grigio I think) and watched Xhosa ladies with yellow clay on their faces as protection against the sun boil up sheeps heads - apparently a locla delicacy but we declined a free sample.
The next day we drove south to Cape Point along what must be the most scenic commute in the world. The train that connects the False Bay towns like Fishhoek and Simon's Town literally runs through the surf if the wind is up.
9th November 2008 – Paternoster
Next stop the coast!
We hadn't realised how high up we were in Nieuwoudtville ... until we found ourselves on the edge of an huge escarpment with cars and lorries crawling down it and a view across miles and miles of flat plains. I guess this is where the high veld becomes the low veld!
We overnighted at Paternoster, a small sea-side town some 200km north of Cape Town. We watched whales in the bay from our balcony and had a delicious fish supper in a shack on the beach.
7th–8th November 2008 – Nieuwoudtville
From Upington we headed south west through Namaqualand. The area is famous for it's wild flowers in the springtime and, alhough it was past it's peak, the landscape was still covered in vivid yellow, orange, pink and white flowers. The scenery was dramatic, largely flat with occasional huge massifs looming up in the distance.
Enticed by a great write up in one of our guide books we made a two night stop at Papkuilsfontein Guest farm which turned out to be one of the most idyllic spots we've ever visited (www.papkuilsfontein.com). After a very warm welcome from our hostesss Alrie, we drove the 2km to the converted farm cottage where we were staying. It had a log fire, claw footed bath, and was lit by hurricane lamps with an old fashioned gas powered fridge (there is no electricity). Plus it's set in the most beautiful scenery.
The next morning we followed a 12km trail up to a spectacular gorge with a waterfall falling 180 m to a pool in the floor. Near the top of the fall are rockpools you can swim in. Jerry braved it but a toe in the water was enough for me – though I did manage an icy 10 minutes in the tiny pool built into the nearby rocks at the back of the cottage.
We left laden with home made bread and roobios tea and olive oil made on the farm.
5th-6th November 2008 – Upington
Upington is a small but very civilised town about 250km south of the Kgalagadi Park gates. The river that runs through it makes it a genuine oasis in the desert and it's one of the greenest spots you'll ever see.
We stayed in a small but very chic garden apartment at a lovely guesthouse, La Fugue, run by a delightful swiss lady, Jacky. We knew we'd returned to civilisation proper when we found ourselves spending the evening catching up with emails via wifi in the exquisite garden whilst being entertained by a classical musical recital which Jacky was hosting.
23th October – 4th November 2008 – Kgalagadi Transfrontier Park
We've wanted to visit this park for a long time and it didn't disappoint. It's famous for it's large numbers of cats (and it's low numbers of cars).
As well as a couple of the main rest camps – Nossob and Twee Rivieren – we were lucky enough to get bookings in several of the parks wilderness camps. These camps are unfenced, consisting of just 4 self-contained units arranged around a waterhole. They vary in design but are essentially log cabins on stilts with their own deck and braai – so you can sit, glass of wine/cup of coffee in hand and wait for the animals to come to you.
These are just some of the highlights of our trip:
Watching three cheetah relaxing in the heat of the day under a tree for a couple of hours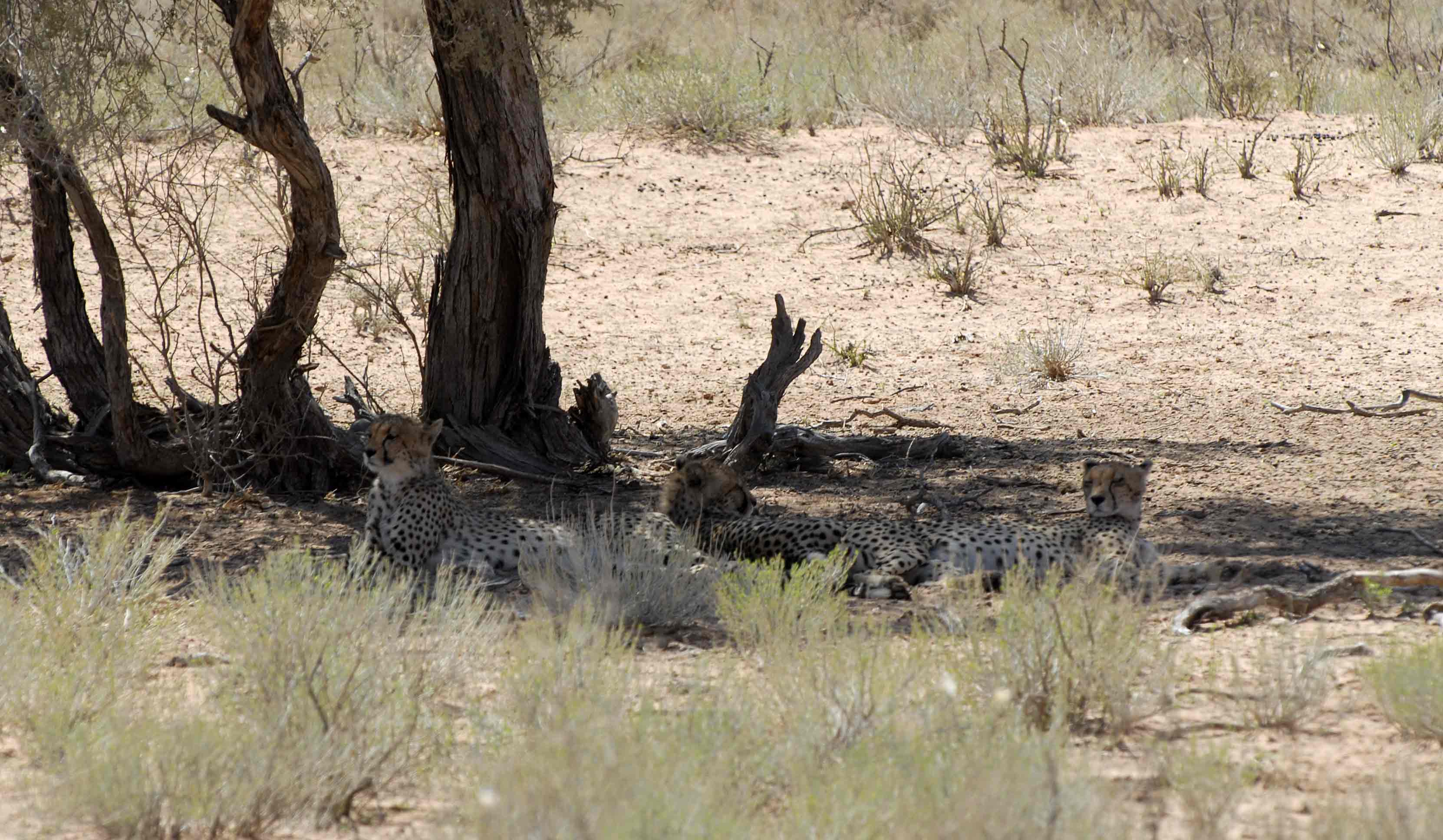 Being woken by the sound of a lioness lapping at the waterhole outside our unit – and half an hour later a leopard passing through

Witnessing a stand off between a lioness and a spotted hyena at a waterhole (us and another unit each had a flash-lights trained on one of the protagonists). Eventually the hyena turned tail, yipping and howling with disgust
Watching a leopard dozing in a tree just 2km out of one of the main restcamps

Seeing a magnificent blackmaned lion come to drink at the waterhole literally a stone's throw from where we were braaing.

He went on to roar throughout the night.

The next morning two younger males galloped up to the waterhole and took up position under the shade of the tree forcing him to retreat and watch from a respectful distance
Coming across a pride of 12 lions including cubs lounging in the road after feeding as the sun set one evening.

It took some skilful manoeuvring to avoid tails and paws.

The males were oblivious to us but looking into the eyes of a lioness through an open car window sent a tingle down the spine.

On our way out of camp the next morning we watched jackals picking over what the lions had left behind
This is the life....
We've also had our first mechanical hitch with the car.

A guard protecting the brake disc had corroded and come loose.

Jerry had to take the wheel off under armed guard at one of the camps – it apparently not being a good idea to lie with your legs sticking out from under a car in the presence of large cats.
8th October 2008 – Johannesburg
Flights transfers and so on all went pretty smoothly and the airport hotel was fine. Better still after turning our luggage upside down and inside out we found the SIM card neither of us remembered packing. Which was useful as this was the contact number we'd given to everyone...