6th August - 13th August 2010 - Upington, Pella and Namaqualand
After some restocking we headed off to the coast. I had read various reports about a new coastal section of the Namaqualand National Park being opened up to visitors and was keen to see if we could get there.
What a find! It was just idyllic. It is flower season here in South Africa so everywhere you look the ground is carpeted with spring flowers. We wild camped on deserted beaches and saw flamingos, whales, dolphins and seals. It was just magical. And to cap it all, completely free as they are still in the process of putting in campsites etc.
23rd July - 5th August 2010 - Kgalagadi Transfrontier Park
This was our third visit and after the amazing sightings we had in June there were high expectations. Perhaps not suprisingly this was a little quieter but a fabulous trip nonetheless.
Highlights included:
three nights at Grootkolk where we had a very close encounter with a superb black-maned lion. We had watched him come to drink at the camp waterhole and drove up the road to try and find him. I was peering down at his tracks in the road as Jerry drove slowly along and was just in the process of saying, "He left the road here ..." when I looked up to see him sitting right there on the bank. He looked at me with clear disdain and sauntered off.
seeing the same leopard with cub that we saw in June drinking at the waterhole in Urikaruus. They stayed for a good 15 minutes, unfortunately everyone else in camp had retired for the night and missed them
big herds of beautiful red hartebeest all over the park
We also met up with our friends Ralph and Angela in Nossob for a couple of days. They are old hands at KTP and it was nice to share tales around the camp fire.
17th - 22nd July 2010 - Franshoek, Paarl, Boschkloof and Upington
After the tranquilty of the Karoo we had a few frenetic days getting things sorted out. The starter motor had gone on the car and so we headed for Cape Town (praying the engine wouldn't stall somewhere en route).
We stayed in Franshoek and managed to coincide our visit with their Bastille day celebrations. It's a beautiful town surrounded by towering mountains and we stayed in the exquisite Domaine D'Anges (a little gated complex that did a good impression of a tiny Tuscan town, complete with duck pond, vineyard and olive grove!). Lovely as it was it's key selling point for us was a sloping drive so we could start the car.
After getting the starter motor fixed and buying a spare in Cape Town we headed off to Paarl to get the roof tent turned around so it now comes off the back of the car. Then it was back up north to Upington with a stop over on a citrus farm in the Boschkloof Valley en route. Now we were all set for another stint in the KTP!
12th - 16th July 2010 - Tankwa Karoo National Park
We were so impressed by this place. The drive there was just jaw-dropping, over passes, along valley floors and across the moon-like landscape the Tankwa is famous for. It is quiet here; really, really quiet. The park is fairly newly proclaimed and they have done a great job. You can stay in converted 19th century homesteads (paraffin lamps and gas fridges but beautifully done up), campsites in the middle of the veld or amazing little units with fabulous views and your own splash pool (it gets VERY hot here in summer).
Since the starter motor was playing up we didn't drive around the park much but we went on a couple of beautiful walks. One in particular went up to a view point at Elandsberg where you can see the desert and watch the shadows of the clouds move across the valley floor. But the rest of the time we sat in the sun and watched the flora and fauna of the veld, not a sound other than the birds and insects. It was completely tranquil.
9th – 11th July 2010 – Lamberts Bay
We stayed the first couple of nights in a great place called Donkieskraal, so-called because they hid horses and donkeys in the cave system here during the war. That cave system has now been converted into some amazing accommodation and the surrounding area is a private game reserve. It also has a beautiful location – and apparently on a clear day you can see and hear the sea from here.
On Sunday we went to Muisbosskerm, a famous West Coast open air restaurant. This was right up there as one of my all time favourite dining experiences. You all arrive together at 12.30pm, take a bench next to the ocean and for the next 3 hours your hosts cook up all sorts of delicious fish and seafood and lay it out on trestle tables. You just keep on filling your plate and sipping your wine. It was delicious with melt in the mouth grilled fish of many varieties, fresh kalamari and crayfish.
On our last morning we took a stroll over to bird island to see the resident gannet colony (and the boats in the harbour hoovering for diamonds in the silt).
5th – 8th July 2010 – Cederberg Wilderness Area
This had a few surprises up it's sleeve. Firstly it was far more beautiful than we had imagined. Stunning valleys just starting to bloom with spring flowers and dramatic rocky buttresses higher up. It was also completely empty. Apparently though it's still school holidays here this is very much a summer destination for the locals. We did get a taste of some inclement weather – a hard frost and a mornings drizzle ... but generally it was clear blue skies. We woke one morning to find the local leopard had obviously paid us a visit in the night with clear prints outside the hut.
Jerry has been suffering with a dodgy knee for a while but it seemed to have cleared up and he was keen to get up into the hills. The walking was quite tough (a lot of steep climbing and clambering over rocks) but with beautiful views and amazing rock formations. We did a couple of the classic walks; the Maltese Cross and the Wolfberg Cracks and Arch.
We were also reminded why it's always a good idea to take a map as we came off the hill in the wrong place and were looking at a very long walk home along the road in the dark. Luckily when we called the people we were staying with on the SAT phone they told us the Cape Nature manager for the Cederberg Wilderness area happened to be driving over to their farm that evening and she very kindly picked us up en route.
3rd – 4th July 2010 – Clanwilliam
We stopped off in Clanwilliam to do the famous Seville Rock Art Trail. Within just 4km you see an amazing range of images. The most fascinating ones for me are the groups of people with their tiny heads and enormous legs. I'm not sure what that says about their body image.
It's a lovely trail though we did end up wading across an icy river at the end. Anyway there were some old cottages to rent along the river and we ended up staying a couple of days trying out some of the Afrikaans dishes from the freezer compartment of the local restaurant. Liver wrapped in fat which you cook off over the braai doesn't sound nearly as good as it tastes!
28th June 2010 - 2nd July 2010 - Nieuwoudtville
This was a revisit to one of our favourite spots. The author of our guidebook says Papkuilsfontein Farm is his favourite place to stay in the whole of South Africa and I may just agree. We stayed in a cottage called Rondekraal, a renovated stable block with a huge cast iron bath, gas lamps and an outside shower (think hot water, cold breeze) and just relaxed amidst beautiful scenery and utter peace and quiet.
We took a walk up to the gorge past waterfalls and rockpools and explored the hills to see the rock art. And in the evenings sat around the log fire.
We also went out one late afternoon to visit the nearby Quiver Tree Forest. These are amazing trees when you see them every once in a while along the roadside but standing amidst a whole forest of them is like being on a different planet. A very memorable sundowner.
23th June – 27th June 2010 – Upington and Augrabies Falls
We rushed back from the Kgalaghadi to see the England v Germany game. We probably would have been better off missing it. The rest of the time in Upington was largely spent getting work done on the car, finally fitting the fuel tank we've been carrying around on the roof. And then fixing the things they broke whilst fitting the fuel tank...
We headed off on Sunday to the nearby Augrabies Falls for a spot of sight-seeing.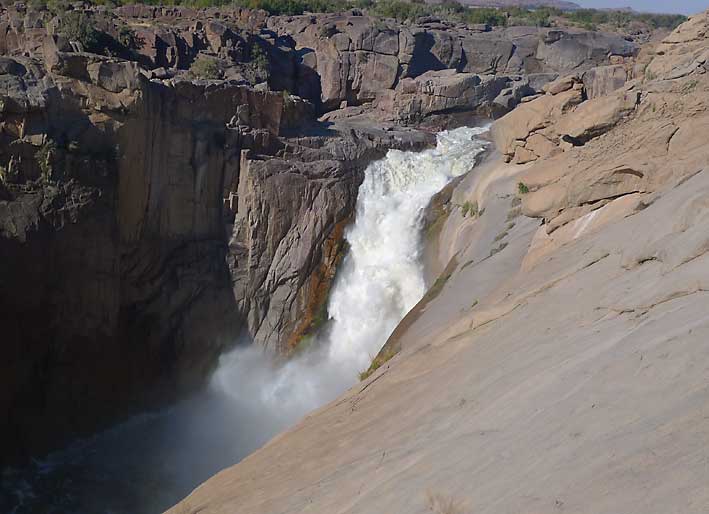 16th June 2010 - 23rd June 2010 - Kgalaghadi Transfrontier Park
A whole week at Urikaruus Wilderness camp! We had been looking forward to this for a long time. It is hard to get two nights in a row here so when I found this cancellation whilst browsing online in the UK back in March I snapped it up.
It was really, really cold. By which I mean the water in the toilet cistern and pan froze and there were icicles on the shower rose. We slept in clothes, in sleeping bags and under all the bedding in the cabin. And the pipes burst three days on the trot. But all this was a small price to pay for the best game viewing we've had anywhere.
Highlights included:
Seeing a lioness ambush an unlucky oryx who was cresting the brow of a hill. They looked at each other for a full two seconds and them she was on him. It all happened too quickly for a photo;
Watching three cheetah bring down a springbok and then thoughtfully drag it towards the car where we watched them feast;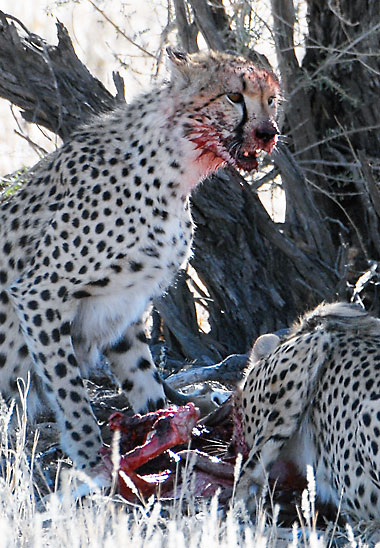 Watching a leopard groom her reluctant cub in the early morning sun;
Seeing a caracal ( a stunning lynx like creature) chase a wild cat off it's patch;
The four cabins that comprise the camp circle a waterhole where we watched lion, leopard and brown hyena come to drink at night and had visits from hartebeest, springbok and wildebeest during the day.
Just amazing...
10th June 2010 – 15th June 2010 – Rustenberg to Upington
We weren't quite sure what to expect of the "Soccer Camp" but whilst Kgsawane certainly looked a little different to our previous visit it was fine and we had a campsite all to ourselves. There were a few "technical" difficulties (ie the big screen TV wasn't working) but we got to the stadium without too much drama. Unfortunately getting away wasn't quite as easy and after searching for a few hours to find a vehicle back to the Park & Ride that wasn't crammed full and stuck in gridlock we eventually got back to camp at nearly 3am.
But going to the game itself was fantastic (despite the result!). The noise of the crowd and the tangible excitement that filled the stadium is hard to describe. I'm so glad we got to experience it.
After Rustenberg we went to stay with some fellow travellers, Ralph and Angela, on their friend's farm. Isaac and Leisel made us very welcome and sent us on our way with about two weeks worth of meat!
We overnighted in Upington before heading off into the Kgalaghadi - one of our very favourite places.
4th June 2010 – 9th June 2010 – Drakensberg
First stop was the Golden Gate National Park in the northern Drakensberg. It was cold and I had wrenched my back somehow so we decided to stay in a rondavel. The scenery here was just glorious – some of the most impressive I've ever seen. We took a walk up into the hills in the early morning and the sandstone glowed in the sun. The grassland is a mix of purples, greens and golds. Stunning.
From there we headed south to the Royal Natal National Park which contains some of the most iconic vistas of the Drakensberg range. We walked to Thuleka Gorge and had amazing views of the Ampitheatre all along the route. We were bracing ourselves for the cold nights but whilst there was a strong wind it was bizarrely warm – apparently heralding from the Free State desert.
21st May 2010 - 1st June 2010 - Marakele to Johannesburg
Crossing into South Africa was a breeze and we headed for Marakele National Park, a favourite spot from our trip out here three years ago. The scenery here is spectacular, though the chill at night was a bit of a shock. It's very much winter here in South Africa.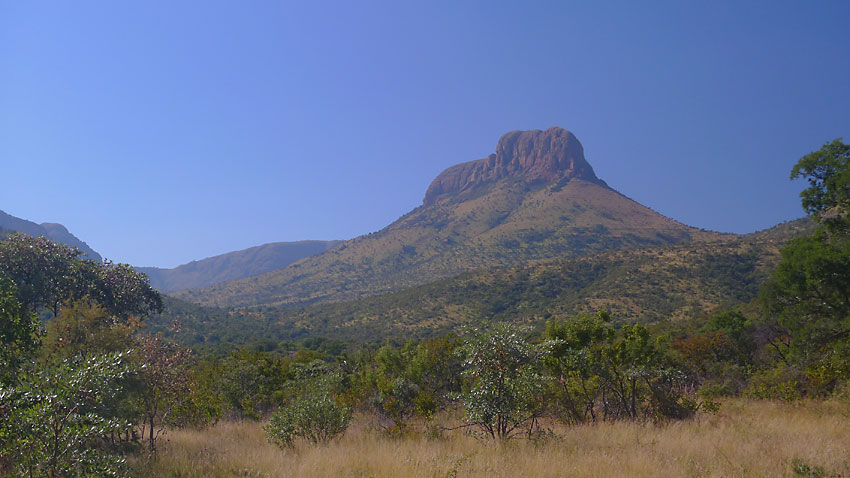 We knew that Jo'burg wasn't going to be much fun. We were on a mission to get all sorts of things fixed and replaced - one of which, unfortunately, was the GPS. Jo'burg is a spralling metroplis and hurtling up, down and around Jo'burgs ring roads with a map where the whole of the city and suburbs is covered about 3 square inches trying to find obscure industrial parks was ... well, not fun.
To help compensate we treated ourselves to tickets for the England v USA game on the 12th in Rustenburg.
We also had a great day out at the De Wildt Cheetah Sanctuary where they breed cheetah and also wild dog for release back into parks. We had a great tour and got to meet one of their so-called "ambassador" cheetah who goes out into classrooms and onto farms to try and re-educate farmers and rural folk who still see cheetah as a threat and shoot or poison them. Shaka, who is a king cheetah, a rare darker colouration once thought to be a different species altogether, purred like a big pussy cat if you stroked him.