10th February - 21st February 2009 - Nyika National Park
We have spent 11 great days here and in the main we had glorious weather. The scenery is simply spectacular - rolling hills in every shade of green with endless roads winding into the distance. Roan antelope and zebra run alongside the car and big herds of eland graze on the slopes. Throughout our stay there were hardly any other guests but even if the place was full to capacity it's sheer size gives a real sense of having it to yourself.
We stayed in the Nyika Vwaza Trust Manager's cottage and by way of quid pro quo did some investigating for the Trust on things like the current state of the roads, bridges etc which the Trust help to maintain.
Highlights of our visit included driving out to the most northerly part of the park accessible by road, Jalawe Peak, which sits on the edge of the plateau giving views across the valley below - all the way to Tanzania on a clear day apparently. We underestimated the walk from where we left the car which left us returning at dusk and the colours of the landscape in the setting sun were just beautiful.
6th February - 10th February - Nkhata Bay

Nkhata bay is a busy little town with a bustling market and a well used football pitch which is hosting local league games at the moment. Winning teams get cash prizes and it's all taken very seriously with supporters turning out in force to cheer on their teams. There has also been a local election whilst we've been here with different parties' supporters forming singing and dancing processions through the streets. All in all a very lively stop!

We are staying in a place called Myoka Village which is lovely - a collection of little stone and reed cottages built into the steep cliff face with great snorkelling from the boulder beach. Each evening a local chief - Mr Nyirenda - arrives with his mobile chocolate stall. Most of them are Cadbury's bars so we had a long chat about Cadbury's and Bournville which is just a few miles down the road from us at home.

Next stop is Nyika Plateau - for 10 days. It will be lovely to be in one place for so long. However we'll need to take all our provisions in as it's a four/five hour drive from there to the nearest shop.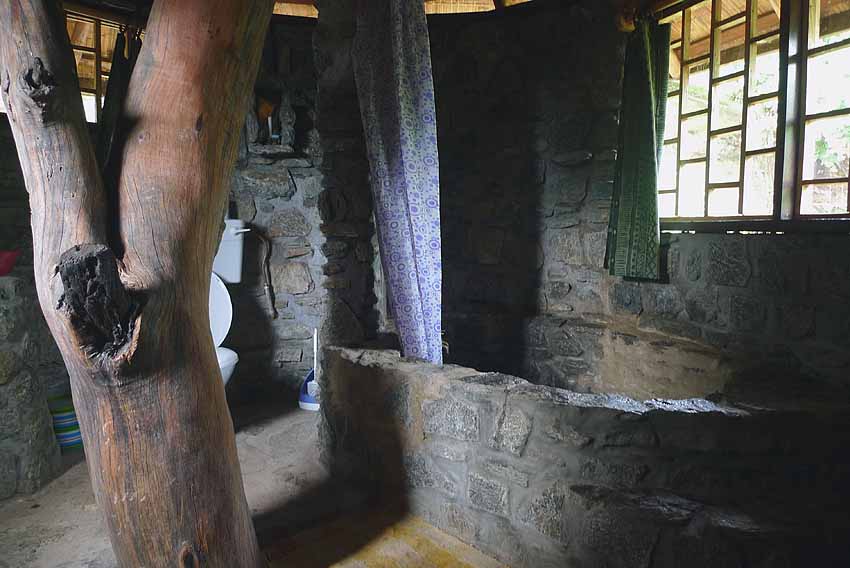 2nd February - 6th February - Kande Beach
En route here we stopped off for lunch at a swish lodge and I was stung by a wasp (twice). I don't know what kind of wasp it was but it certainly packed a sting. Within minutes I had come out in what looked like nettle rash from top to toe and by the next day my hand and foot were swollen up like balloons. So we holed up in a chalet at Kande Beach and I nursed my injuries.

Kande Beach was our first real stop frequented by overland trucks. At one point there were six in situ. It made for some interesting people watching!! Once I was mobile again I went horse riding - which is one of Kande's big draws. It's a great way to see the local villages and finishes up with a bareback swim in the lake which is lovely. I really enjoyed it - until I got delusional about my new found riding skills, went for a canter and promptly fell off. I now have a fine collection of bruises. Jerry opted for the much safer option of a dive in the lake.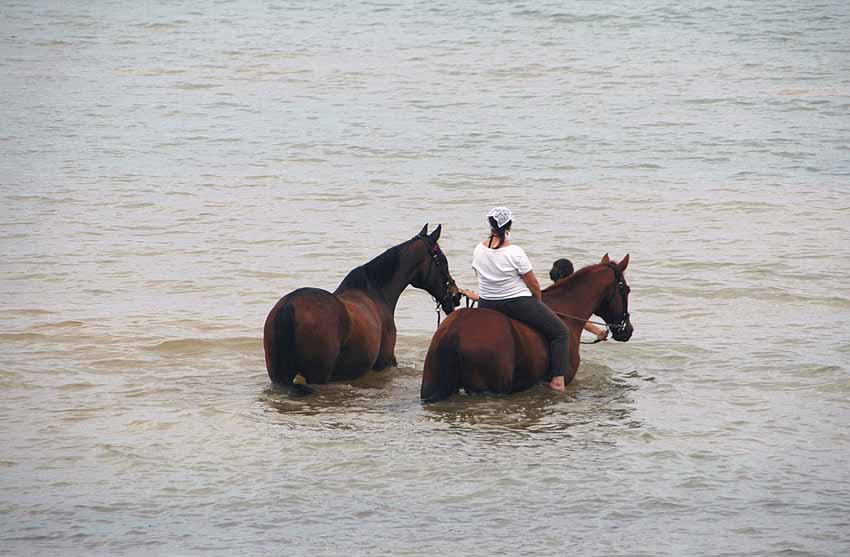 30th January - 1st February - Mua Mission/Senga Bay/Nkhotakota

We spent a really interesting couple of hours at Mua Mission Cultural Museum learning about the different tribes of Malawi and some of their beliefs and traditions - particularly surrounding child birth, marriage, death and so on. Really fascinating stuff. They have a huge display of locally made masks which are still used today on high days and holidays and represent a huge range of allegorical characters. For example there is a huge bellied monster meant to remind the youngsters of the dangers of teen pregnancies.

We camped at a very cool spot next to the lake in Senga Bay and used this as a base for a trip into Lilongwe where we did various chores (such as getting the wheels balanced on the car and restocking generally). Just in the nick of time (I was down to my last novel - despite careful rationing) I found a fantastic second hand bookshop and have replenished my library. I have read most of my purchases before - but at least not in the last few weeks!

The next day we drove to Nkhotakota where we camped at the pottery. You can throw your own pots and decorate them yourself but we decided to purchase one readymade by someone who knew what they were doing. We had planned to stay in the Nkhotakota Wildlife Reserve which is apparently teeming with animals (large herds of elephants and many lions) but the reserve is so densely vegetated visitors rarely see them. On the road through the reserve there is a stone memorial to a tourist who was pounced on by a lion whilst riding her bike.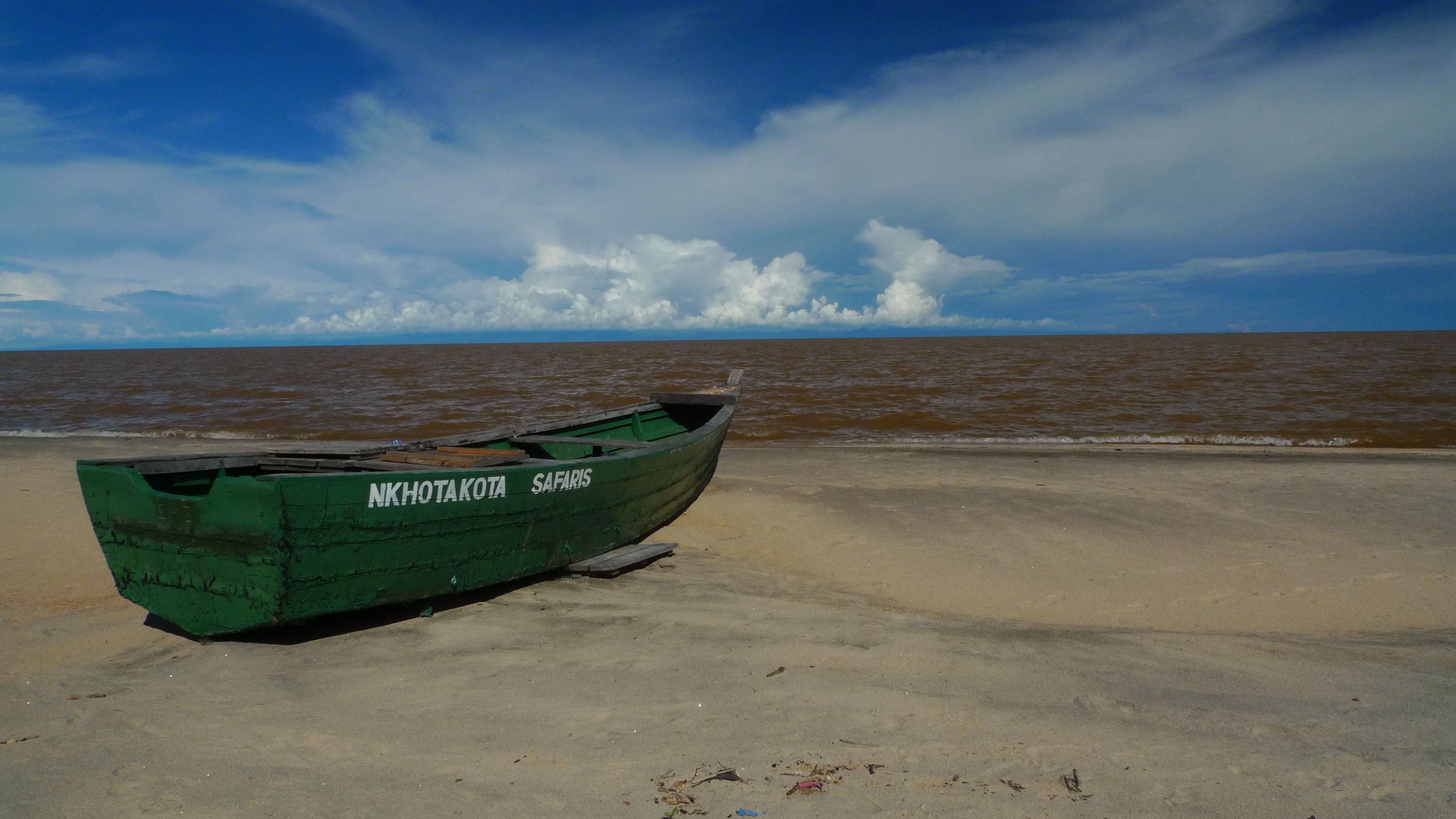 26th January - 29th January - Cape Maclear

Again as it's low season it's pretty quite here but we're told it's usually quite lively. We have a chalet overlooking the lake shore complete with swinging chairs and hammocks and now just need to summon up some energy to do some of the activities on offer – kayaking out to the uninhabited islands just off shore and diving with the tropical fish (which I've been used to seeing in from a fish tank in the kitchen!).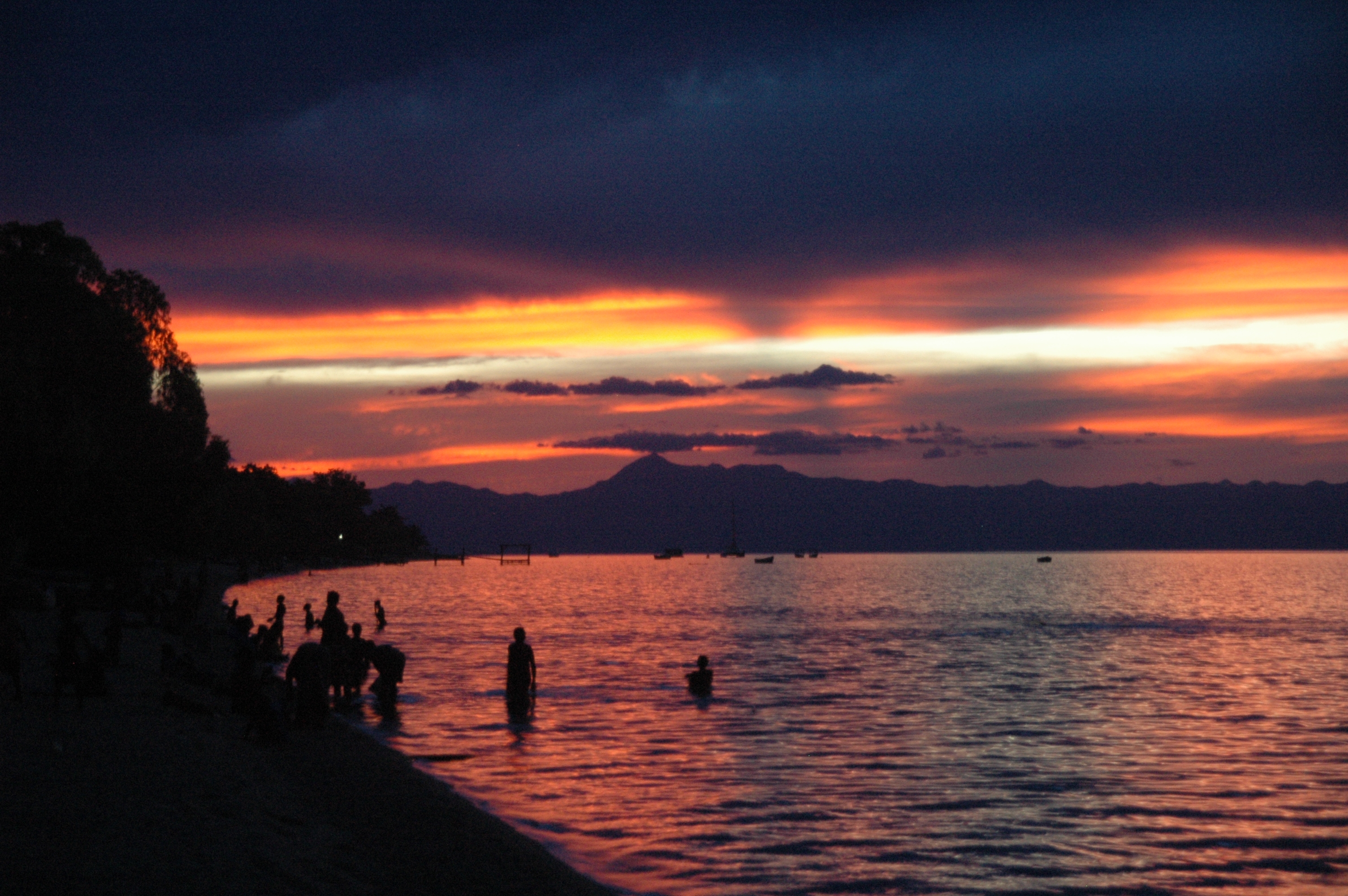 23rd January - 25th January - Liwonde National Park
Liwonde is one of Malawi's most famous parks and even though it was 'green season' meaning some of the accommodation and a lot of the internal tracks through the park were shut we didn't want to miss it.
In the event we were the only guests at Chinguni Hills Lodge and had the run of the whole park. We saw a lot of antelope, including waterbuck, impala, kudu and bushbuck, often at very close quarters and some amazing birdlife. Top spots were probably a beautiful black and yellow monitor lizard and a serval (a kind of long legged spotted cat). We saw hippo grazing from a distance and had a bit of a run in with a bad tempered lone bull elephant.
We went to sleep each night to the sound of the hippos in the nearby Shire grunting and bellowing.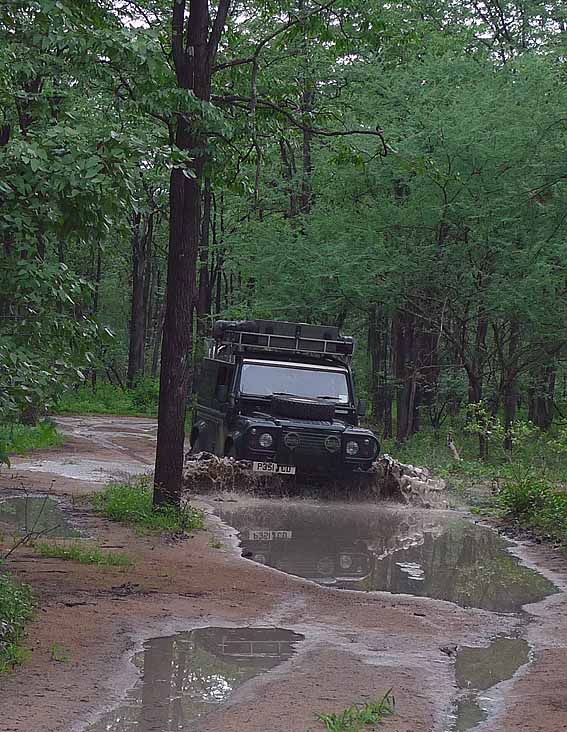 19th January - 22nd January - Cape Maclear
Zomba town sits at the foot of a m
ountain some 1600 odd metres high. Having suffered with the heat and high humidity at Majete (which is only just above sea level) we were craving some fresh air and so headed up the mountain to find somewhere to stay.
We spent most of our time here in a cottage almost at the summit with the most spectacular views. There was a lot of rain and the temperature dropped considerably – which was delicious. We had to get our woollies out for the first time in months! Though we managed a couple of short walks we spent a lot of time reading and drinking in the ever-changing view from the garden which was sometimes shrouded in cloud but other times clear skies all the way to Mount Mulanje and beyond to Mozambique.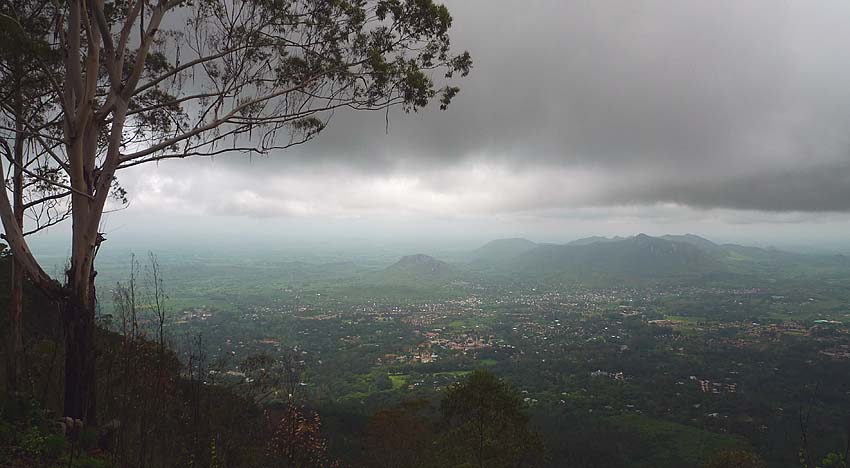 16th January - 18th January - Majete Game Reserve
Though we were really looking forward to being back in a game reserve it had rained often and heavily in Blantyre and we were a little apprehensive about camping. As we drove the 70 km or so to Majete, through spectacular scenery coming down off the hills of Blantyre and down into the Shire Valley, there were ominous dark grey rain clouds ahead of us. However, luck was with us and we had no rain at all throughout our stay.
We pulled into the community run campsite at Majete at about 4pm and set up camp in a great two storey shelter with a ladder up to a mezzanine floor.
The next morning we went elephant tracking on foot. This was rather more heart-pumping than we bargained for. Two guides accompany you – one with the tracking equipment (a number of the elephants are electronically tagged) and one with the obligatory gun. We found the first group fairly quickly and crept closer. Unfortunately we were down wind of them and they soon realised we were there and made it clear they weren't too happy about it. As Jerry said "When the man with the gun is running it's probably time to make tracks...". We soon found another group and were able to get pretty close to them. They caught our scent from time to time, raising their trunks high above their heads to try and locate us but didn't get too agitated.
That evening we arrived back in camp after a game drive to find the elephants had turned the tables on us. There were four in the camp site and they stayed for an hour or so whilst we had supper up on our deck.
After a final breakfast at our favourite viewing point watching the hippos cavort in the Shire we were on our way.
12th - 13th January - Blantyre
Blantyre is Malawi's second city so we are taking advantage of the facilities on offer (wifi!!) and are spending our time catching up with the website, emails and other admin.
8th - 11th January - Mulanje
First impressions of Malawi are that it is very beautiful. Vibrant green tea plantations and rolling hills lined the (excellent) roads.
We'd wanted to stay at the foot of Mount Mulanje, an imposing granite plateau which we'd been able to see as we travelled towards the border, but arriving late in the day we found they had been working on the mountain road and all the signs were gone. Plenty of villagers were keen to direct us (for a fee) but not in any consistent direction so we headed back to the town where we stayed in a pretty grotty motel.
The next day we got directions and spent the next few days in a lovely CCAP chalet (CCAP stands for Church of Central African Presbyterians). It was, by turns, too hot/wet to do much serious walking but we did manage a trip up to the waterfalls just after sunrise one day.