18th May 2010 - 21st May 2010 - Maun to Khama Rhino Sanctuary
We spent a couple of days in Maun sorting stuff out and then headed south to Khama Rhino Santuary dodging suicidal donkeys as we went.
This is a great place (the camp site below was all ours) but if you're out that way I wouldn't recommend it at the weekend when it becomes something of a party venue for the locals. We had music pumping and cars driving about until 4am. So much for the "wilderness experience" promised. However, it did deliver on the rhino - we saw a big family group of 10 as we headed back to the camp at sunset.
Central Kalahari Game Reserve - 13th May - 17th May 2010
A trip to the Central Kalahari is quite an expedition. You need to take in all your own water - not just for drinking but for washing, cooking etc. Plus extra fuel (even though we have a capacity of 120L). When you get there the landscape is quite stunning - not as you might expect rolling dunes but wide green valleys and pans. Large herds congregate in these whilst the grass lasts. I have never seen as may oryx and springbok - hundreds of them.
And of course with all that game around the lions aren't far behind. Each night as we sat around the fire and looked at the stars we heard them roaring, telling ourselves that sound carries and they were probably miles away.
| | |
| --- | --- |
| | |
Nxai Pan and Makgadikgadi National Parks - 5th May - 12th May 2010
This area of Botswana was once apparently a superlake - it's now salt pans. In the dry season these make for a moonlike landscape of cracked mud as far as the eye can see but after the rainy season they sprout grasses rich in minerals and many animals migrate to the area.
Nxai in particular we loved. Driving round the pans at dawn and dusk we saw cheetah and lion and had a daily encounter with a particularly grouchy bull elephant at a waterhole. He didn't want company for his evening drink and if he turned up whilst we were there we took the hint.
Back at the campsite we had a hornbill who seemed obsessed with his own reflection in the windscreen.
Maun - 30th April - 4th May 2010
Our main aim here was to get some bookings organised for other Parks. I was keeping my fingers crossed that there'd be availability at this late notice as campsites in the Parks are limited and many are booked up months in advance. However, we struck lucky and managed to get 10 days in Nxai, Mkagadagadi and Central Kalahari.
We stayed at Thamalakane River Lodge and indulged in some fine food and wine, (I haven't mastered salmon mousse or duck a l'orange over the camp fire yet).
Savute to Mankwe - 27th - 29th April 2010
It is, as South Africans say, a bit of a mission to get to Savute. You are crossing rough terrain that alternates between deep sand and thick mud. It is an enigmatic place though and we were there at quite a special time. The Savute Channel, basically a river, started flowing again in the 1970's after being dry for a hundred years or so. It then stopped again in 1982. It started again this year (in fact we had to ford it to get into camp). The existence or otherwise of this water has a significant effect on animal migrations and, if it continues, the likelihood is that game densities will increase and it will become an even more amazing destination.
Our access around the area was restricted by some heavy unseasonal rain a few days earlier. Several times we tried to cross the marsh and ended up retreating. There were a few heart in mouth moments. But we saw lots; elephant, huge herds of giraffe and zebra.
From Savuti we drove to Mankwe Bush Lodge for a couple of days catching up with chores, washing, reorganising the car and the like. The lodge owners reported that Moremi had suffered particularly badly in the recent rain and they were in fact making a plan to try and recover one of their vehicles which was firmly submerged out in the Park.
We woke up on our second morning there to some unmistakeable dishplate sized footprints in the dust around the campsite. We hadn't heard a thing.
Chobe National Park - 19th April 2010 - 26th April 2010
We left Zambia via the Kazangula river ferry. After paying a multitude of taxes, road levys, fees and other vaguely spurious charges we boarded the little ferry for the crossing. Ours was the only vehicle. The river is in flood and the ferry had to beach itself in the reeds on the far bank and use them as anchorage whilst it waited for the landing stage to become free. Before long though we were in Botswana and formalities completed headed for the National Parks Department to book some time in Chobe National Park.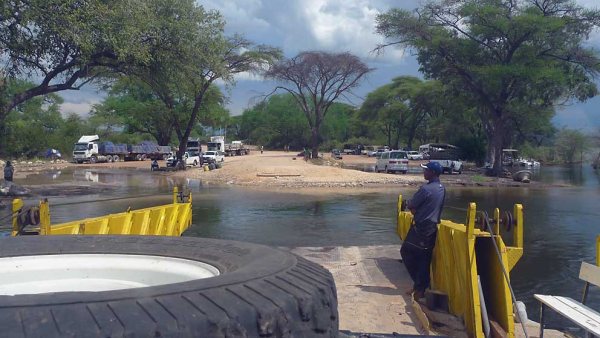 Chobe didn't disappoint. The campsites at Ihaha are just spectaular, each having it's own piece of river frontage. Chobe is famous for it's huge herds of elephant. We didn't see so many but then it is the end of the rainy season and the foliage is thick. What is nice though is that they are much more comfortable with vehicles than their Zambian and Malawian relatives and we were able to get much closer. We also saw loads of giraffe and buffalo and a few lions.
Also some more unusal and perhaps more memorable sights. Such as the bare trees covered in enormous morose roosting maribou storks at dawn and the swarms of dragonflies that come out every evening. And the amazing sunsets from the campsite.
As ever paradise comes at a cost. Whilst we were out on a morning game drive some baboons decided to investigate our Oztent ... and wrecked it. There was no food inside but it looks like a big male has jumped onto the top and the internal frame has snapped and twisted in a number of places. Luckily it seems we can get replacement parts in Jo'burg.